5 Qualities to Look for in a

Communications

Reseller Partner
Start your UCaaS reseller journey on the right foot with the right partner.
Complete this form, and we'll contact you with next steps.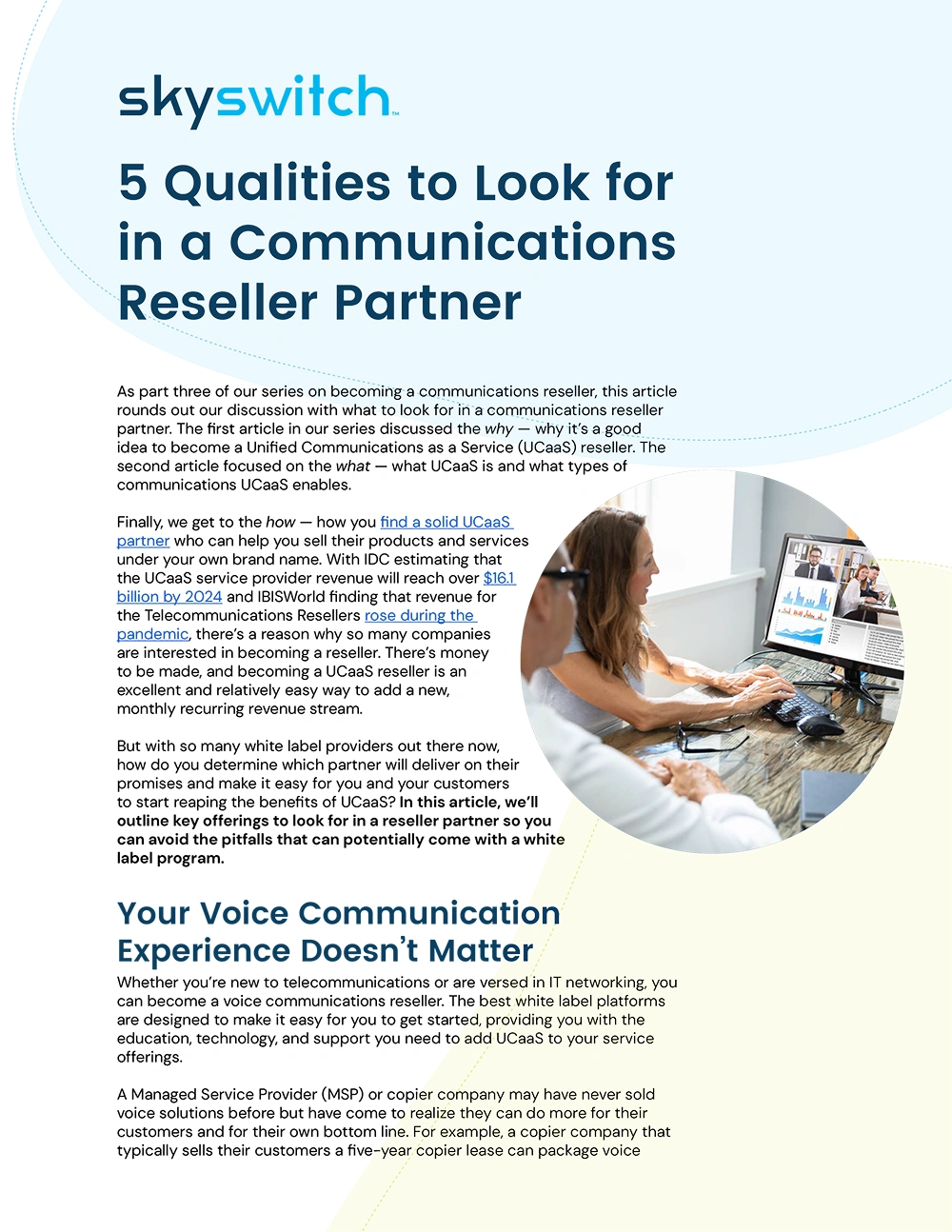 Why SkySwitch Partners Love Us
Read why companies trust SkySwitch so much, they put their brand name on our solutions.
We did a lot of research and several companies recommended SkySwitch. We appreciate their transparency, partnership and reliability. They're always there for us.
- Dean Simon, President, LineOne
SkySwitch products are flexible, allowing me to customize just about anything to make it work for my customer. Communication is the biggest piece for us—being able to speak to management about an issue without feeling like we are just another support ticket. I get a quick response, know who to call, and it gets resolved quickly.
- Ethan Farlow, ComTech Network Solutions
We chose SkySwitch because they gave me a good feeling—didn't feel like there were 'gotchas' waiting around the corner. They also offer the best price so I can provide the most value to my customers. The SkySwitch support all the way through has been phenomenal. It's like a bunch of school teachers got together to start a business. They made it easy to transition from what I sold before to selling SkySwitch.
- John Steele, President, Grand Rapids Connected, Inc.
5 ways this eBook helps you understand UCaaS
See why not all white label UCaaS platforms are created equal.
Identify how much support you'll need
Determine which partners offer basic or end-to-end support based on your expertise.
Discover why some businesses migrate off their current platform
Avoid the pitfalls some companies make when they partner with the wrong provider.
See how some providers offer a faster time-to-revenue
Learn how to evaluate the pathway to success offered by various providers.
Learn what credentials to look for
Get past the marketing pitch to discover what really matters when it comes to the company that's backing you.
Get your free eBook & see how to grow your business with SkySwitch